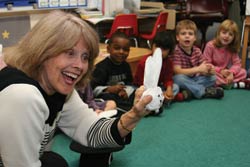 Handwriting Without Tears® strives to make legible and fluent handwriting a natural and automatic skill for all children. We specialize in creating exceptional, fun, and child friendly books and materials that help children develop skills for school success.
Jan Z. Olsen, OTR, author and developer of Handwriting Without Tears® (HWT) program, is an occupational therapist with more than 25 years of experience specializing in handwriting. Her interest in handwriting came from helping her own son who had printing problems in first grade.
Our unique curriculum uses entertaining, multisensory techniques and research based methods to help students develop skills and form letters—from prewriting to printing to cursive. Our simple instructional techniques and activities help improve a child's self-confidence, pencil grip, body awareness, and posture; and develop other essential school success skills. Best of all, kids love the activities and are proud of their work.
Our award-winning Pre-K program, Get Set For School®, uses hands-on playful learning to prepare young children for kindergarten.
The lessons require only a few minutes of preparation a day and are easy to use and fun to teach. Handwriting Without Tears® workshops are comprehensive training for those who want further training with our materials.
Millions of students, teachers, therapists, and parents across the country have benefited from the unique and compelling features of the HWT program.
One of a Kind Certification Program

Handwriting Without Tears Level 1 Certification is the only handwriting certification in the country, attracting hundreds of new, talented handwriting specialists each year. We developed the certification in 2005, shortly after the release of The Print Tool®. Once we had an assessment for evaluating any style of print for remediation, we wanted to create a tool to help educators promote their specialized skills.

Level 1 Certification fulfills three critical goals:
Provides professional recognition to Handwriting Without Tears® trained handwriting specialists and tutors
Helps the public locate handwriting specialists who are available to service students and educators
Offers a referral source for therapists, teachers, and parents who wish to develop or enhance a business based on teaching handwriting to children
Visit the Handwriting Without Tears Web site and find out why so many educators and parents rave about our curriculum.